La Revue Avicole (The Poultry Journal)
One century of experience : 1891... to the present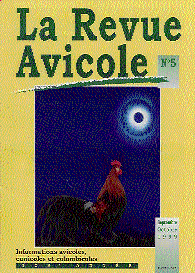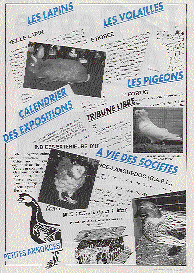 The essential journal for all breeders of farmyard animals
Descriptions of breeds of chickens, turkeys, geese, ducks, rabbits, guinea-pigs, pigeons etc...with color and b/w photographs.
Breeding methods, accounts of visits to breeding farms.
Feeding and nutrition of animals
Disease prevention.
A "questions answered" service.
News of poultry societies and clubs.
Dates of exhibitions to come and accounts of previous ones past, with photographs.
Classified ads.

To subscribe or to get further information (25 € a year), please contact :
"La Revue Avicole" 34, rue de Lille
F-75007 PARIS, FRANCE.